Let's be honest. Playlists in music streaming have fundamentally changed how we find, listen to and share music. How music is sorted and distributed. And how successful your music turns out to be.
In this article we give DIY musicians, artist managers and labels three concrete tips on how to use CYANITE for playlist pitching on Spotify. CYANITE is a new and free AI tool that lets you analyze your music for a direct and objective opinion.
We distinguish between the following playlists:
1. algorithm-based playlists (Spotify);
2. independent playlists (external bloggers & curators);
3. editorial playlists (Spotify's curators).
We'll focus on the last two. Note that the latter is only possible via the portal Spotify for Artists. For those who do not yet know how the portal works, here are two quick guides by Spotify and Spinnup.
Side note: If you submit a track on Spotify for Artists at least seven days before the release, it is included in the Release Radar of the artist's followers.
Our optimal tips on how to integrate CYANITE into the process are:
1. Identify the strongest emotions of the song;
2. Find the right words for the song description;
3. Filter out the most suitable playlists. 
Tip 1: Identify the strongest emotions of the song.
The Spotify for Artists portal lets you select two emotions which classify your song the best. Being limited to only two, it is very important to make the right choices. An emotional and subjective topic like music makes this particularly difficult.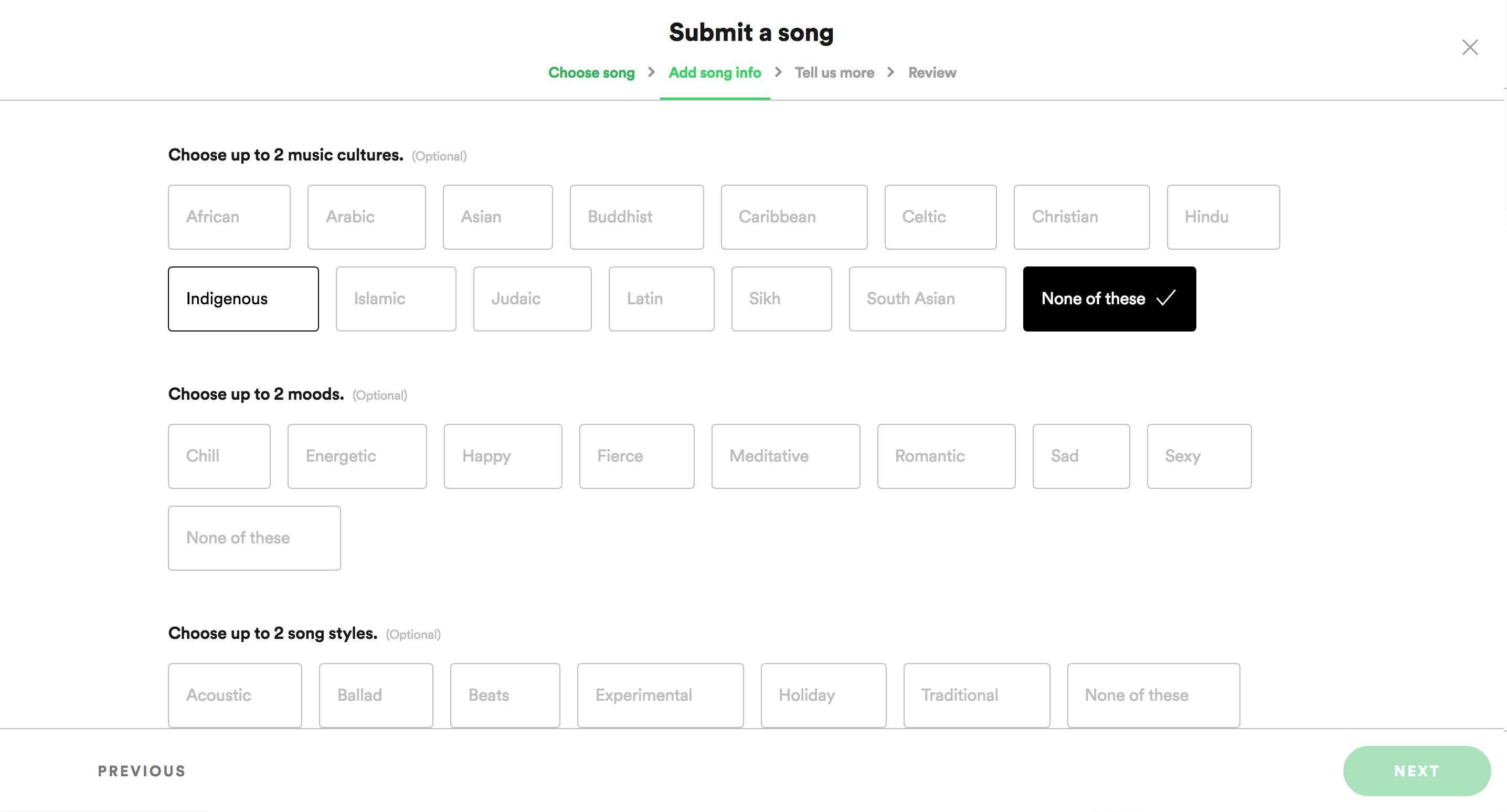 Upload your song file as MP3 into the Dynamic Emotion Analysis on CYANITE. You see at a glance how eight different emotions from Calm to Excited develop over the course of the song.
We talked to Dan Glaunsinger, artist manager at daynight.music, about how he used CYANITE when submitting artist SACCC to Spotify for Artists. Dan remembers that choosing emotions has always been one of the most difficult parts for him: "The objective view of the CYANITE-AI helps a lot".
In his article on the pitching process, Stephen Cirino also emphasizes the relevance of emotion selection: "Choosing the right moods to match your song can help get your music in front of curators for mood-focused playlists such as Mood Booster, Dreamy Vibes, Sad Indie and more".
Here is an overview of how the emotions of Spotify for Artists can be equated with the emotions on CYANITE.

Tip 2: Find the right words for the song description.
It's about the context. Especially when filling in that big blank space where you can describe the song to the editors. Everything that gives them extra background information about the song has to be packed in here. In the end it makes their work easier.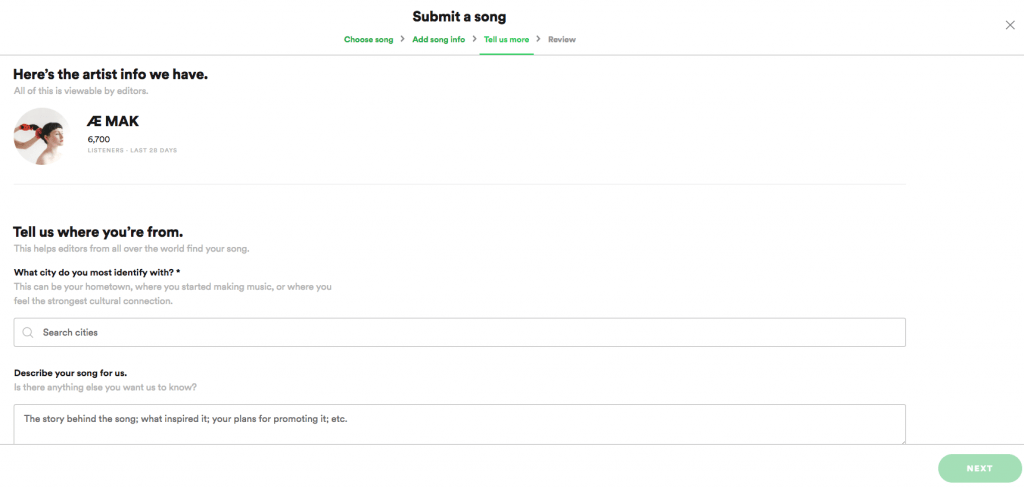 AWAL
, the distributor and label of
Kobalt
,
writes here
: "
It also requires self-classification, which might offer additional value to a company that hopes to match a listener's mood with the appropriate soundtrack, as quickly and accurately as possible
". With the company, of course, Spotify is meant.
A big part of how listeners experience a song is the way it develops and what turns it takes over its length. As the name suggests, the Dynamic Emotion Analysis does not only show you what moods a song are made of.
It maps the most characteristic peaks and lows and all developments between. This gives you data-supported vocabulary to describe certain dynamics of your song and the fine little details that let it stand out. See the screenshot below.
Tip 3: Filter out the most suitable playlists.
After analyzing the mood of your music in a bottom-up approach, let's see how you shed some light on the character of the playlists itself. In a reverse engineering approach, we identify the most fitting lists by using the Track Mood Analysis.
With CYANITE, we considered the first 10 tracks from the popular playlists Deep Focus and Motivation Monday. As CYANITE and Spotify accounts are connected, selecting tracks for the analysis is very convenient.
Example 1: Playlist Deep Focus (3.3 million followers)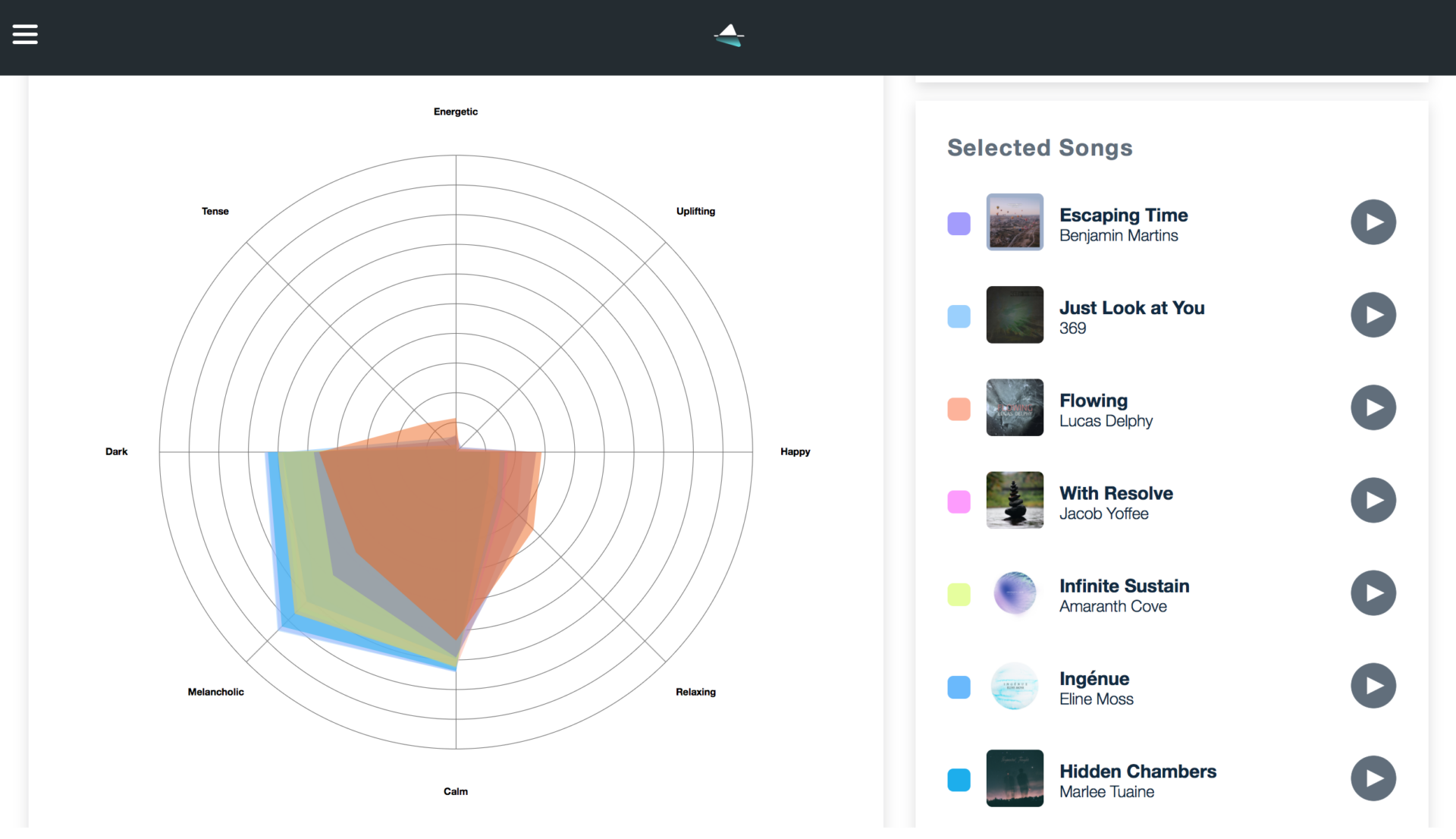 The screenshot outlines how the Deep Focus playlist moves in the lower half of the network diagram, which is comprising more calm moods.
Example 2: Playlist "Monday Motivation" (600k Followers)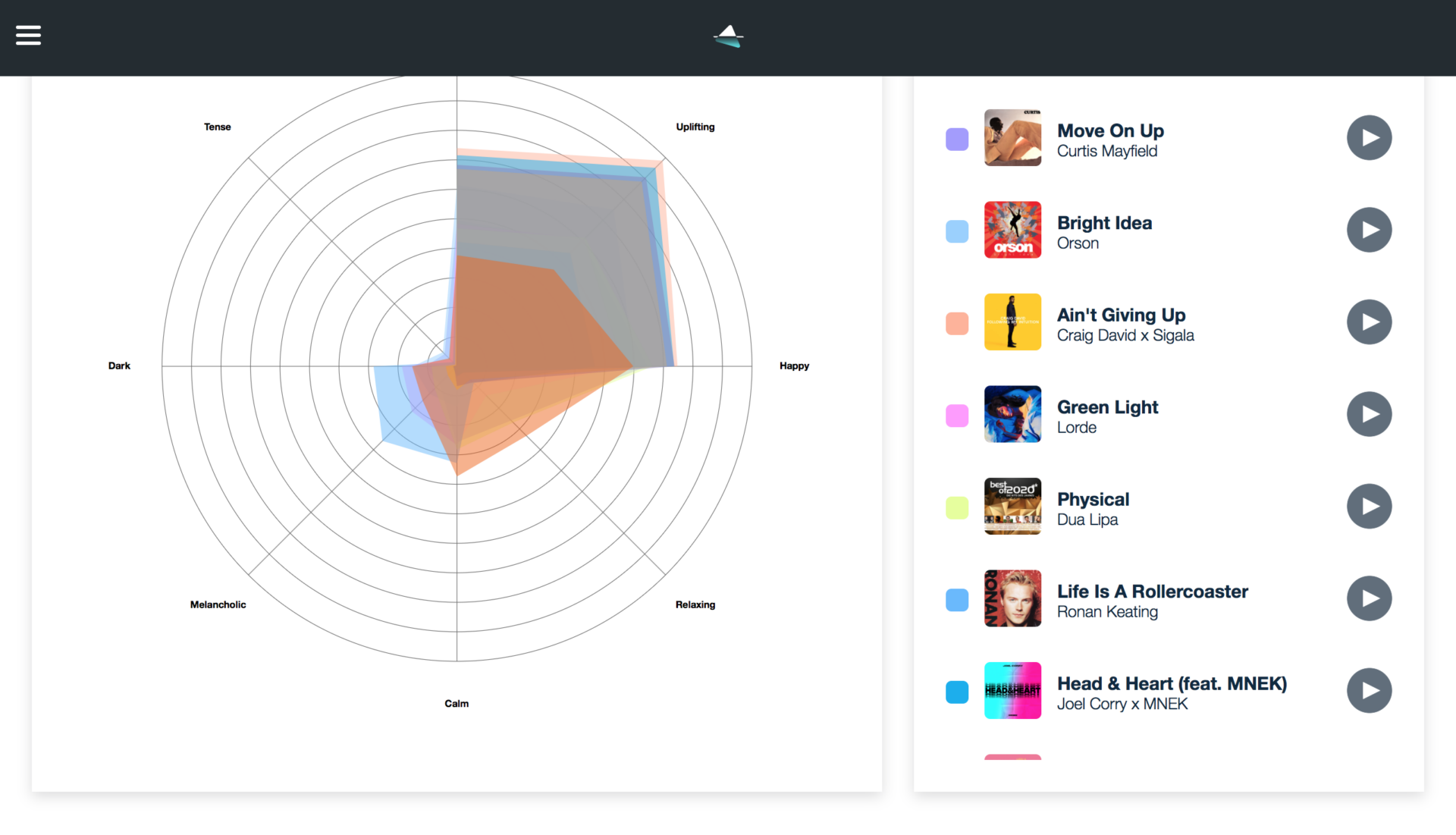 .In contrast to the Deep Focus playlist, the songs of the Monday Motivation playlist cover a much more positive mood and higher activation level.
So how exactly can I use the analysis for myself as an artist or artist manager in playlist pitching?
As we know, Spotify for Artists does not allow you to directly suggest the editorial playlists you would like to get into. The Spotify editors have their hands on it.
Fortunately, there are also many public playlists put together by independent curators, such as Monday to Monday, Indietronic or Songpickr. Playlists like Soundplate or Indiemono even offer their own ways to submit your music via their websites.
Long story short: find out the general vibe of a playlist, compare it to the moods in your song and figure out which playlists fit best. Then consider all the other relevant factors such as genre, country and cultural influence and put your time into messaging only the right curators.
How to best approach these indie curators is well described here and for more great tips on how to promote your music check out this article by Studio Frequencies.
What's Next?
Given the continuous streaming hype, mastering the art of playlist pitching seems inevitable.
Nevertheless, or rather because playlists have such influence on the music industry, it's a topic that needs critical discussions. We recommend a couple readings on Musically and Hypebot.
Since this is a hot topic, we would like to hear your opinion. What are your secret tips to conquer the good playlists on Spotify? What are you missing in the process and where do you think there is unused room for improvement?
If you have feedback, criticism or additions, please leave us a comment, send us an email or a tweet to @cyanite_ai. We are really interested in a critical exchange.
About the Author
Jakob is the Co-Founder and CMO of CYANITE. He is into electronic music and one his favorite playlists is called Movement in the Breach.