Press and blog pitching is one of the many ways to promote an artist in addition to Spotify Playlists. Spotify even asks you how you're going to drive traffic to Spotify before you can pitch a song. So if you're doing influencer or Facebook marketing, not only will it help distribute your song, but you can also get on that coveted Spotify editorial. We already covered Facebook and Google marketing on the blog. In this article, we look into press releases and pitch writing with Cyanite.
The problem with the media is that media outlets get so many pitches every day that it is hard to break through the clutter. That being said, there is a right way to reach your audience. 
Why the right keywords are important in press releases and pitches
It is useful to understand how the music blog industry works before doing a pitch. The blogs receive thousands of emails every day and all of them describe music. Additionally, the blog industry developed into a niche sphere catering to specific audiences. Nowadays, there is a standalone blog for every music taste. So the pitching usually starts with identifying the right media channels and blogs. 
Additionally, as the editors receive too many pitches, some blogs request to submit the pitches through a third-party platform such as SubmitHub, Breakr, MySphera, or Soundcampaign.
The standard pitch includes an introduction, the purpose of writing (whether it is to secure a playlist placement, blog feature, or monthly album roundup), the artist, and the song description. To write the latter part you will have to tell a story, provide evidence, and reference facts that might be familiar to the editor. If you want to get on the editor's list, the pitch should sound interesting, engaging, and express the essence of the song. Here is where Cyanite can help, so you can infuse your pitches with the best possible descriptions and also support them with data. 
This innovative way of using Cyanite for press release writing was brought to us by mü-nest – a music label from Kuala Lumpur, Malaysia. Here is why and how they use it, which we also describe step-by-step below:
For press release and pitch writing, Cyanite's Augmented Keywords and Mood Tags allow us to accurately pinpoint certain algorithm-friendly and easy-to-relate keywords to be used in the texts so that the readers (i.e. magazine editors/radio DJs / music reviewers / playlisters) can instantly have a better sense about the track even before they listen to it, and that will further help them to decide whether this track can fit into their music review column/radio show/playlist. Furthermore, these keywords can also be very useful as hashtags in places like Bandcamp, SoundCloud, or social media.
1. Analyze the track in Cyanite
Drag and drop your music to the library view. Before you do that, you need to register for free here https://app.cyanite.ai/register
The library view will show data about the song such as mood, genre, energy level, emotional profile, and more. You will see it in the columns, but also in the detail view.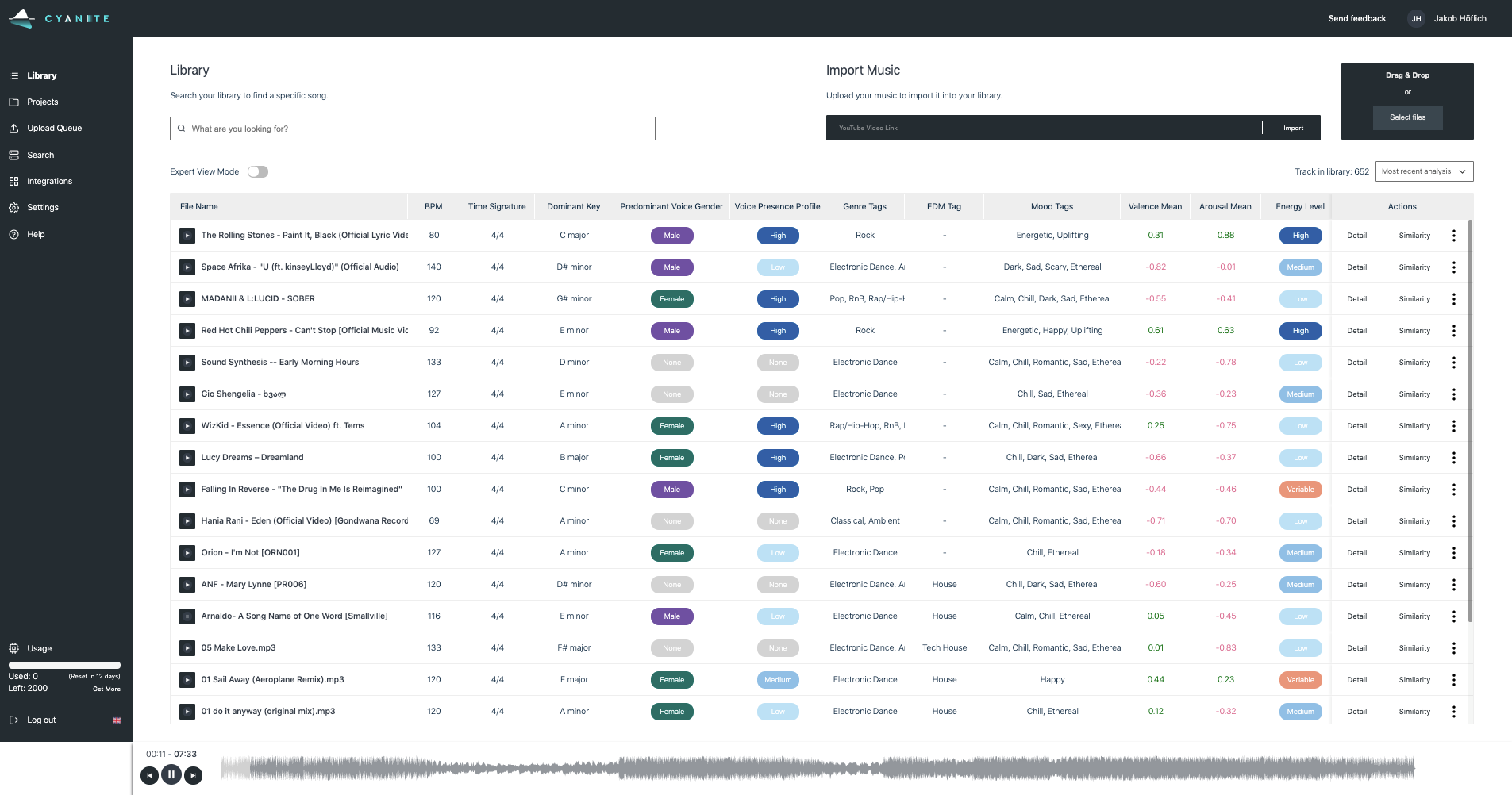 2. Pick the right mood tags and keywords
In the detail view you will see genre identified by AI, mood, emotional profile, instruments, and voices represented in interactive graphics that can be customized. The final part, augmented keywords, will show additional words to describe the song. 
For the press release, you can use any information suggested by Cyanite, for example, calm, chill, gentle, dreamy, pensive, piano, synth, guitars. 
Augmented keywords, especially, can be of great help when you can't find words or synonyms to describe the song. 

Augmented keywords in Cyanite detail view
You can also try one of the AI writers and upload Cyanite keywords there to see what the output would be. We recommend you check and edit the AI-written text for better accuracy, but the results of AI writers using Cyanite data for song descriptions are already very impressive.
This is an example of a text written by simply uploading Cyanite augmented keywords from the analysis of Billie Eilish's song Bury a Friend:
This track is very laid back, with a deep and dark sound. It has a slow tempo and easy-going rhythm, mixed with some electronic sounds. The track is perfect for a long evening of relaxation.
3.
Use Similarity Search to identify similar artists 
Another trick is to use Similarity Search to find similar tracks and artists. You can access Similarity Search from the library to see the full list of suggested similar songs.
This information can be used to provide familiar references for the editor to understand the profile of the song. For example: "For the fans of Max Richter and Dustin O'Halloran." or "Much alike to artists such as Vangelis, Ennio Morricone, and Nils Frahm, Dae Kim produces similar ambiance with his usage of orchestration and synthesizers."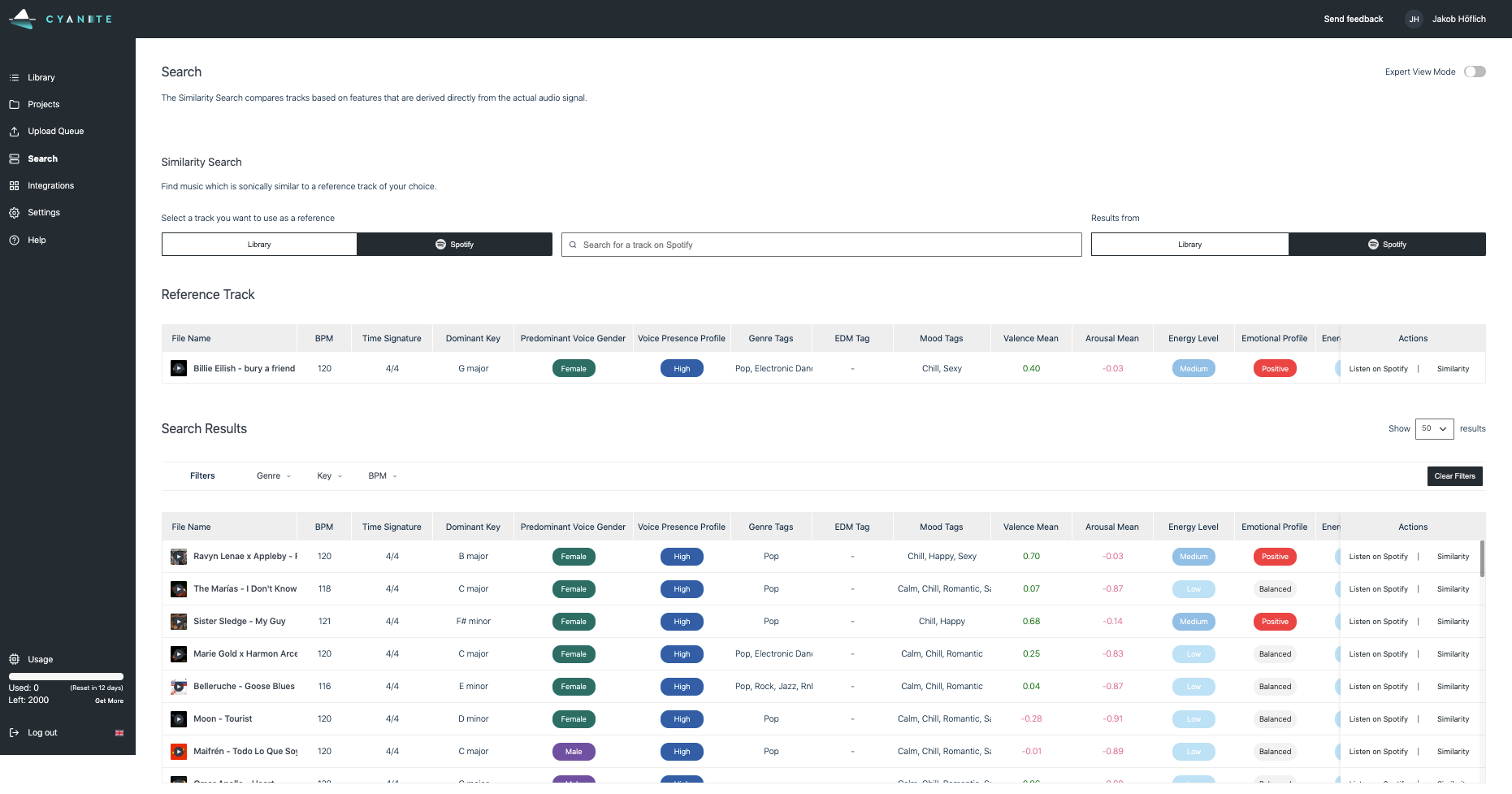 Cyanite similarity search
4.
Write a press release or a pitch 
The last step is to write a press release or a pitch using all the information you've gathered. As we mentioned earlier, you can use an AI writer or create an email to the blog or a press release manually. Here is an excerpt from a press release by mü-nest written using Cyanite data:
This gentle rework is entitled, "Our Home", in which he takes a short and chill motive that according to Dae, he could not stop playing on the piano and restructures the song with it being used as a foundation with an additional chord progression. What stayed, obviously, is the picturesque synth drones and reverberating guitars, while pensive lyrics and dreamy vocals were added to convey the story better.
How to write a quality press release or pitch using Cyanite
According to Tunecore, it's better to
avoid hype in your press releases
. Stick to important, useful, and objective data. The writing should be balanced and contain the story, song description, artist description, and, perhaps, your artistic approach and inspiration. You can also include your previous successes and future plans. If you collaborated with someone in the past, or got a feature in media or blog, or had any other success with the track – this information is worth mentioning. 
A 200-word limit seems to be an industry standard for pitches. Cyanite data will help you not get stuck with words, provide ideas and inspiration, and even the exact words to use in the press release. For labels who send hundreds of pitches every day, it is also a way to optimize time and effort. 
The exact same method can be used for pitching Spotify Editorial Playlist. To see how you can improve Spotify Playlist pitching using Cyanite see the article here. Additionally, in services like Bandcamp and SoundCloud, you can use Cyanite keywords as hashtags.
I want to integrate AI in my service as well – how can I get started?
Please contact us with any questions about our Cyanite AI via
sales@cyanite.ai
. You can also directly book a web session with Cyanite co-founder Markus
here
.
If you want to get the first grip on Cyanite's technology, you can also register for our free web app to analyze music and try similarity searches without any coding needed.