PRESS RELEASE:
RTL integrates Cyanite's recommendation algorithms into its own production music library FAR MUSIC
The Mannheim-based technology company Cyanite enriches the in-house production music library FAR MUSIC of Mediengruppe RTL GmbH with its innovative algorithms for music analysis and recommendation. Cyanite's AI will make it easier for editors and journalists to quickly and intuitively find the right music for their film clips. The Mediengruppe RTL GmbH is the largest customer so far on Cyanite's mission to accompany music and media companies into the AI age.
Mannheim/Cologne, August 18th, 2020 – The Mediengruppe RTL GmbH is one of the largest German media companies. Part of which are the TV-Channels RTL, RTL II, VOX, and n-tv as well as the music publisher i2i Music, whose catalogue is available to all RTL editors for all types of use via the music platform FAR MUSIC.
With the help of the Cyanite deep learning technology, the music search on FAR MUSIC will be made easier and more intuitive. This will increase user-friendliness, ensure high-quality content, and reduce the costs for licensing third-party copyrights.
Specifically, RTL / i2i Music will use Cyanite's algorithms for automatic music keywording and for detecting acoustic similarities in songs. In addition to musicological factors such as BPM or key signature, genre, mood, vocals, energy, and instruments are recognized and correspondingly indexed. Furthermore, RTL editors will be able to find similar-sounding pieces on FAR MUSIC via reference songs from YouTube or Spotify.
The Mediengruppe RTL GmbH is Cyanite's largest customer to date. They join SWR, NEUBAU Music and Meisel Music, and the production music libraries Soundtaxi, Filmmusic.io and RipCue Music, who already use Cyanite's technology.  
Markus Schwarzer, co-founder, and CEO of Cyanite: "Having such a large and renowned company as RTL / i2i Music among our customers marks a milestone for us. It shows how more and more companies are relying on the new possibilities of artificial intelligence to optimize processes and take advantage of new business opportunities."
Lutz Fassbender, Director Copyright Affairs, Mediengruppe RTL GmbH: "In Cyanite, we have found the perfect AI partner who equips us with important, innovative future technology for our music platform and whom we trust to develop future models."
Anyone who would like to convince themselves of Cyanite's technology can register for the Web App free of charge and upload music or integrate Cyanite into an existing database system via a programming interface.
Try Cyanite for free: https://app.cyanite.ai/login

Full press release and material here: https://drive.google.com/drive/folders/1fIzNSMHSviLPQq4q97AipWcffGfhJB9s?usp=sharing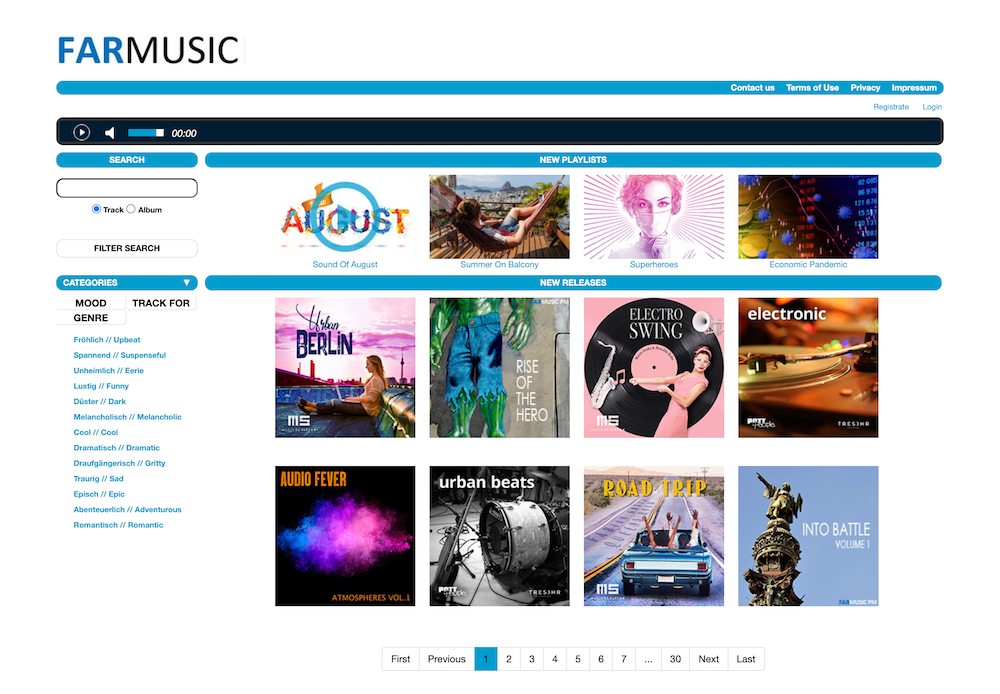 The current interface of FAR MUSIC
Background to Mediengruppe RTL / i2i Music / FAR MUSIC:
i2i Music is an interface and service provider between producers, editors, and marketing experts on the one hand and composers on the other. The publishing house distributes commissioned compositions for film, television, and radio and has music produced for the advertising sector. The core tasks of the publishing house include the financing of music projects as well as their complete administrative implementation: the creation of music lists, the control of GEMA documentation, and the worldwide royalty collection. The production music offer of i2i Music is called FAR MUSIC and is aimed at filmmakers, editors, and producers of trailers, advertising, and online content of the Mediengruppe RTL GmbH. The platform offers a wide variety of musical styles and provides tracks of all genres for download. Music seekers can use keyword or filter searches, combine music and sound effects in playlists and download their favourites. The FAR MUSIC catalogue includes international labels from Germany, Great Britain, and the USA.
Background to Cyanite:
Cyanite believes that state-of-the-art technology should not be exclusive to big tech companies. The start-up is one of Europe's leading independent innovators in the field of music-AI and supports some of the most renowned and innovative players in the music and audio industry. Customers and music companies using Cyanite include the radio station SWR, the music publishers NEUBAU Music and Meisel Music, and the production music libraries Soundtaxi, RipCue Music, and filmmusic.io. Cyanite's mission is to help music companies make the transition to the age of AI without spending expensive resources on tech-innovation. The 10-person team from Mannheim and Berlin operates at the interface between the music industry, data science, and software engineering. The founding team emerged from the Popakademie Baden-Württemberg – Germany's top-university for the music business. They are completed by a team of data scientists from one of the world's most renowned chairs for Music Information Retrieval at the Technical University of Berlin. The company, known from the magazines Musikwoche and Music Ally among others, has already received numerous awards from TechCrunch, Google, the German Government, Business Punk, Music WorX, German Accelerator and is currently a participant in the Accelerator Marathon LABS of the music company Marathon Artists in London. Cyanite is financed by the city of Mannheim and various business angels, such as Germany's Business Angel of the Year 2019, Dr. Andrea Kranzer.
Press contact
Jakob Höflich
Co-Founder
+49 172 447 0771
Jakob (@) cyanite.ai 
Headquarter Mannheim
elceedee UG (haftungsbeschränkt)
Badenweiler Str. 4
68239 Mannheim
Office Berlin
Cyanite
Gneisenaustraße 44/45
10961 Berlin
Website: https://www.cyanite.ai/
LinkedIn: Cyanite.ai 
Twitter: Cyanite.ai