PRESS RELEASE
BPM Supreme is the first digital record pool worldwide to integrate Cyanite's artificial intelligence for individual music recommendation
 The digital record pool BPM Supreme from San Diego will soon use the algorithms of the Berlin and Mannheim-based technology company Cyanite. The AI enables BPM Supreme to suggest music according to moods and to provide users with individualized music suggestions. BPM Supreme is one of the world's first online music services for DJs that integrates algorithms to enhance the user experience.
Mannheim/Berlin/San Diego, December 1st, 2020 – BPM Supreme is one of the world's leading digital record pools. For a monthly fee DJs get unlimited access to the entire catalog featuring thousands of new releases and exclusive remixes. The BPM Supreme brand also includes a new online sample library for producers and music makers, BPM Create, as well as a record pool specialized in Latino music, BPM Latino. BPM Latino will also integrate Cyanite's algorithms.
Supported by Cyanite's Deep Learning technology, the music search on BPM Supreme will be made even more intuitive, e.g. by introducing moods as search categories. BPM Supreme users will be able to find suitable music for their DJ sets and playlists easily and optimize them with the help of intelligent recommendations.
With the cooperation with BPM Supreme, Cyanite has taken on board its first major customer in the United States. In addition, SWR, Mediengruppe RTL, NEUBAU Music, and Meisel Music as well as production music providers Soundtaxi, Filmmusic io, and RipCue Music already use Cyanite's technology.
Jakob Höflich, founder and co-director of Cyanite: "BPM Supreme embodies the ability to break through the industry and quickly adapt to the constantly evolving market. They have proven many times that they have the spirit to pioneer the industry through new business models and technologies. We are very proud that they have chosen Cyanite as their AI partner to go this crucial step into the future with."
Angel "AROCK" Castillo, Founder and CEO of BPM Supreme said: "Together with Cyanite we will enter the next phase of BPM Supreme towards an AI driven future and enable our users to find music even better with state-of-the-art discovery functions." 
Anyone wishing to try Cyanite's technology can register for the free Web App and upload music or integrate Cyanite into an existing database system via an API.
Try Cyanite for free: https://app.cyanite.ai/login
Full press release and material here: https://drive.google.com/drive/folders/1X9Ug29ISA-QdOBOHUMQFLOaqelL9HrXl?usp=sharing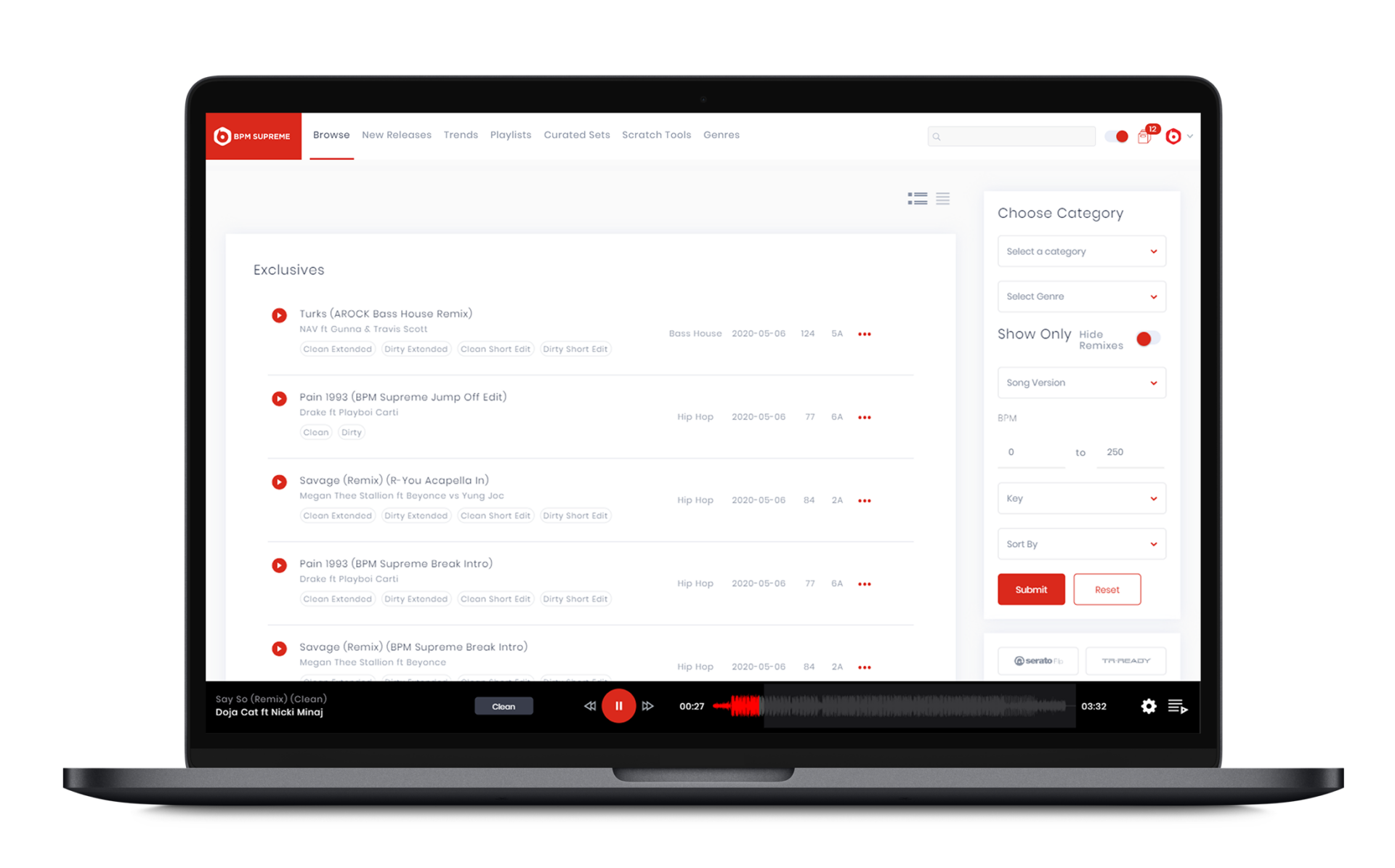 BPM Supreme's music search interface
Background to BPM Supreme:
BPM Supreme is a leading digital music service for professional DJs delivering an extensive selection of new releases and exclusive tracks through a user-friendly platform and mobile app. With an innovative approach to music discovery, the company's mission is to be the most trusted source for DJ-ready content. BPM Supreme names many notable DJs as users of the platform, such as DJ Jazzy Jeff, Z-Trip, A-Trak, The Chainsmokers, and DJ Snoopadelic. Over the past ten years, BPM Supreme has partnered with some of the music industry's most prominent companies, including Sony Music Entertainment, Universal Music Group, Empire Records, Dim Mak Records, Mad Decent, Roland, Pioneer DJ, Denon DJ, and Serato.
Learn more at www.bpmsupreme.com
Background to Cyanite:
Cyanite believes that state-of-the-art technology should not be exclusive to big tech companies. The start-up is one of Europe's leading independent innovators in the field of music-AI and supports some of the most renowned and innovative players in the music and audio industry. Customers and music companies using Cyanite include the Mediengruppe RTL, the radio station SWR, the music publishers NEUBAU Music and Meisel Music, and the production music libraries Soundtaxi, RipCue Music, and filmmusic.io. Cyanite's mission is to help music companies make the transition to the age of AI without spending expensive resources on tech-innovation. The 13-person team from Mannheim and Berlin operates at the interface between the music industry, data science, and software engineering. The founding team emerged from the Popakademie Baden-Württemberg – Germany's top-university for the music business. They are completed by a team of data scientists from one of the world's most renowned chairs for Music Information Retrieval at the Technical University of Berlin. The company, known from the magazines Musikwoche and Music Ally among others, has received numerous awards from TechCrunch, Google, the German Government, Business Punk, Music WorX, German Accelerator and is currently a participant in the Accelerator Marathon LABS of the music company Marathon Artists in London. Cyanite is supported by the city of Mannheim and various business angels, such as Germany's Business Angel of the Year 2019, Dr. Andrea Kranzer.
Press contact
Jakob Höflich
Co-Founder
+49 172 447 0771
Jakob (@) cyanite.ai 
Headquarter Mannheim
elceedee UG (haftungsbeschränkt)
Badenweiler Str. 4
68239 Mannheim
Office Berlin
Cyanite
Gneisenaustraße 44/45
10961 Berlin
Website: https://www.cyanite.ai/
LinkedIn: Cyanite.ai 
Twitter: Cyanite.ai