A Step-by-step guide: How to write a song bio for DSPs like Spotify, Youtube, Bandcamp, Soundcloud, Tidal, Deezer, and Pond5
In one of our latest blog posts, we showcased the best ways to utilize Cyanite as an artist or producer. With AI on the rise, you won't be surprised that you can also make use of these tools to write a song bio.
Cyanite + ChatGPT: How to elevate your pitches for various DSPs.
Distributors and DSPs want to know as much as they can about your song to ensure they can place it in the right playlists and target the right audience – and we all know how challenging it can be to find the right words to describe our own music. Writing a good song bio is crucial to get playlisted on DSPs.
When uploading my songs to Pond5, this process used to take me around 2 hours per track and now it is just 20 minutes with Cyanite + ChatGPT.

Guillermo Pareja, Cyanite User
We are going to give you a step-by-step guide on how to streamline this process.
1. The Power of AI Tagging – Log into your Cyanite Account
First things first: If you don't have an account yet, sign up here. Cyanite provides a ton of metadata for your song, and for up to 5 songs per month, it's free. Need more? We've got you covered. Just upgrade to a subscription for an additional 15 monthly analyses, or get some extra one-time credits.
2. Upload your song to Cyanite
Head to "Library" and upload the song you want to use. For this use case, we need the genre, advanced moods, character, and movement tags.
To get the best results, choose the right tags from each "mean" section, offering you a percentage of every tag. Leave out the ones that you might not agree with personally, but be careful not to be too subjective!
For even better results: use Cyanite's Augmented Keywords and AI Descriptions to enhance your prompt in the next step – only available for subscription users



3. The Almighty Chat GPT
For the next step, you need to log into your ChatGPT account and start writing your prompt. Be as specific as possible about the platform you want to use the description and keywords for.
Let ChatGPT know what you are looking for – this could be anything from whole text descriptions or keywords to a brand new song title.
Then copy the genre, character, mood, and movement tags and paste them into the chatbot. 
For a better result, add Cyanites AI Description to the prompt.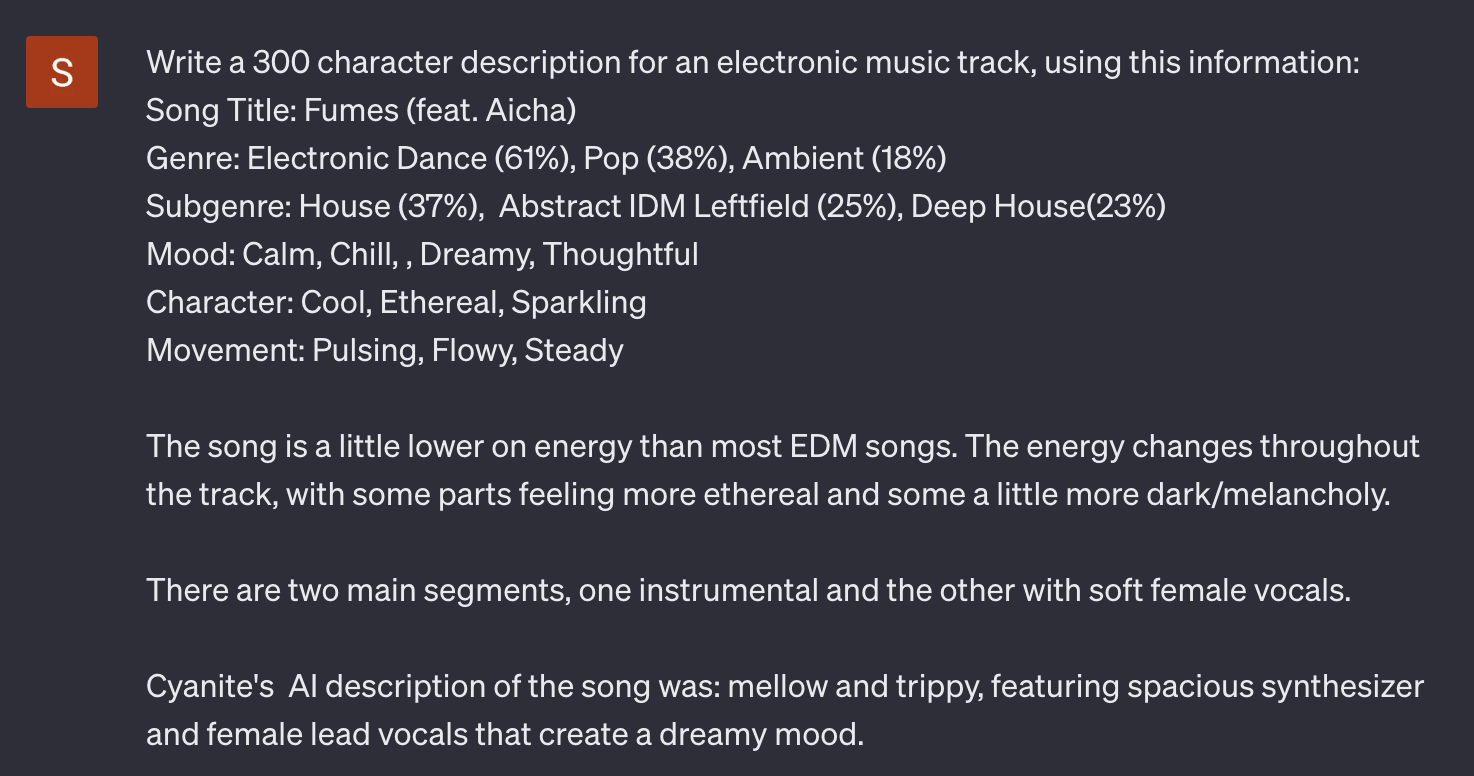 4. Pimp Up Your Prompt
You might have already found what you're looking for. But there's potentially more. Just like with copying homework, you want to be careful not to have the same results as everyone else on Spotify.
Try to enrich your ChatGPT prompt with personal details. This could range from anything like musical inspirations to the place where it's been recorded. 
Pretty much anything you can think of.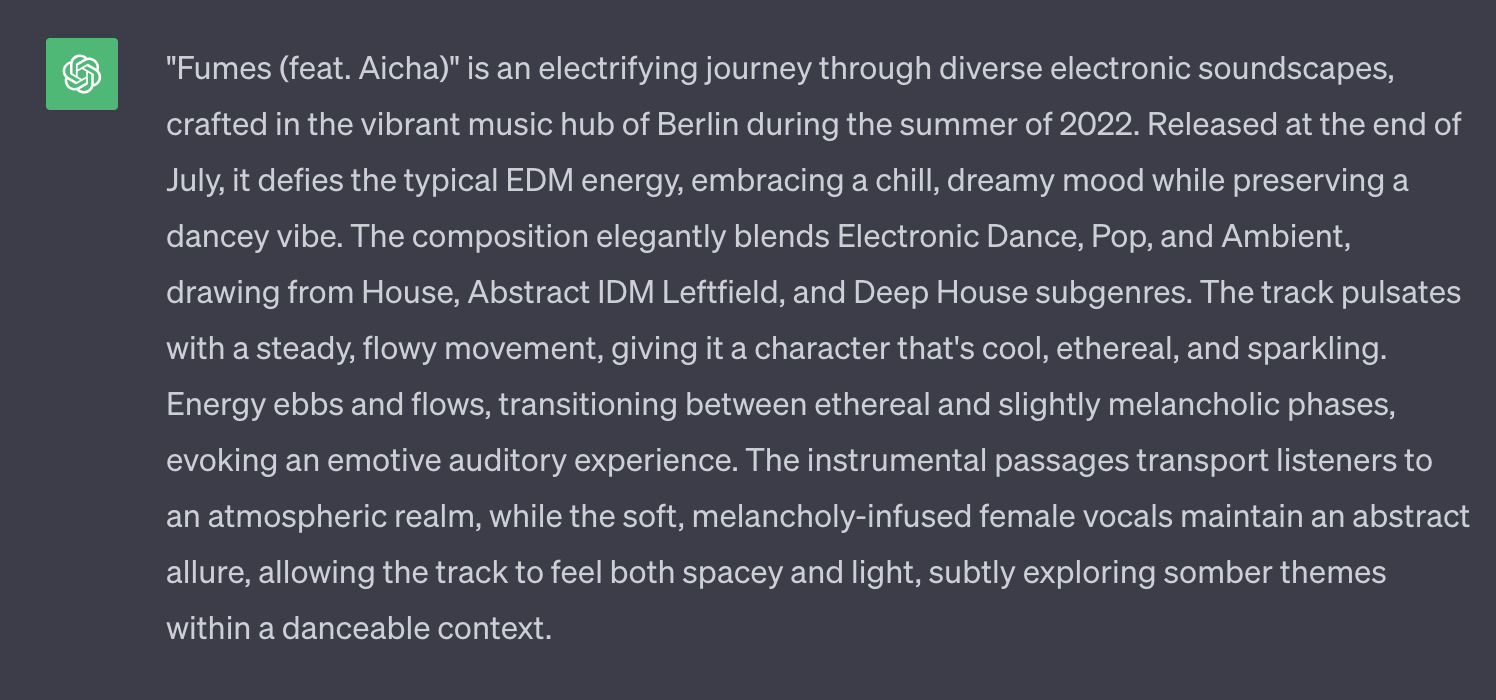 5. Refine your Results
When writing your song bio, there's no magical solution for everything, so in each case, this can be a source of inspiration rather than a finished text description or song title.
So it's best to rewrite the text in your own words.
In any case, you've surely obtained results that will help you distribute your track on a variety of platforms.
Curious how the song we used sounds?

In case you discover further interesting use-cases for Cyanite, feel free to reach out to us here.
A big thank you to Guillermo Pareja for supporting us on this post. He got in touch with us to let us know about this use case and how benificial it has been to him.
Your Cyanite Team.