Communicating through video is better with music. Especially if you want audiences to feel what you're saying. Without music, there's no emotive hook for the viewer to tie onto. It's just moving images that might say something, but your viewer also might not get it.
Some of the best marketing campaigns are built around the right music. The launch of the Apple iPod became synonymous with the Jets' hit single, "Are You Gonna Be My Girl?" (the then unknown Australian band sold 3.5 million copies of their album thanks to the exposure). The song created a feeling of excitement beyond the campaign.
McDonald's iconic jingle, "I'm Lovin' It", did the same. The phrase became part of everyday language, and still feels as happy as the brand's imagery looks. And then there was Cadbury's now-classic ad: a gorilla playing the drums to Phil Collins' smash hit "In the Air Tonight." Although it had nothing to do with chocolate, the musically memorable visuals produced a 10% spike in sales – three times the normal level.
So how do you find music for your video? Music that connects and communicates as effectively as those listed above? Good news is, there's a process – one that's intuitive and data-driven. And Cyanite's tools are designed to take you through each step.
Inspiration – Similarity Search
Finding the right music for your video can be hard if you don't know where to start. Usually, though, you or someone involved with the project will have an idea of what you want. This inspiration might come from the mood of your video or the desired reaction from your audience. But usually, you have a reference track in mind; a way of saying, "it should sound like this".
For example, you might say, "I want something like, 'Arlo Parks – Cola'. That's already a great starting point, because a reference track is specific; it's different enough from most other songs, and similar enough to some, to find sensible matches. This is where Cyanite's Similarity Search comes in.
The Similarity Search function creates a musical mood board – a collection of songs that are similar to your reference. You can search within a database of popular Spotify songs or within your own library of uploaded songs. It does this through algorithms that deeply analyse your song to find similar patterns. ( To learn more, check out this article.)
Now you've got a selection with a similar sound and feel. You can even refine your search using Cyanite filters – voice, mood, genre or timbre. That means you can tell the AI to find songs with voices like Arlo Parks', while excluding genre or mood.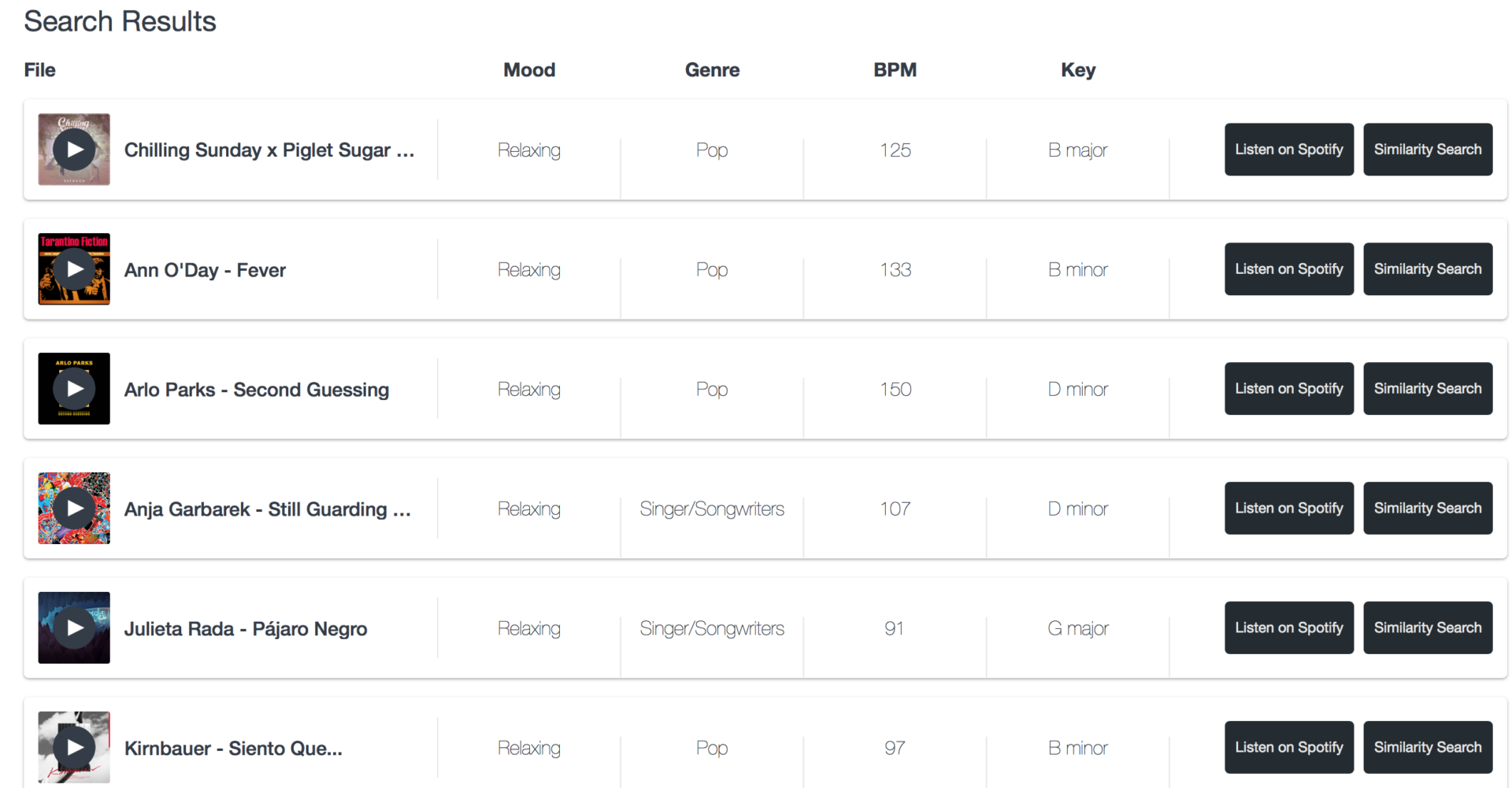 All of this narrows down your search, giving you precise suggestions based on your inspiration. But you're still looking for the right song – one that matches the emotional journey of your video.
Comparison – Track Mood Analysis
Enter Cyanite's Track Mood Analysis – a tool that fine-tunes your Similarity Search results. With the generated selection in front of you, you're able to compare each song's emotional qualities.
A circular diagram maps each song to the following mood states: happy, relaxing, calm, melancholic, dark, tense, energetic and uplifting. Our AI measures how much of each mood state is present in a song. The happier it is, for example, the more area it takes up under 'happy'. This means you can immediately see which songs fall into which mood states. View each song separately, or layer them for a visually effective comparison.
That's exactly what we did for the soundtrack of I May Destroy You, a British comedy-drama television series. Interestingly, of the twenty-five songs analysed, the AI identified none as "uplifting". This seems to fit the darker tone of the traumatic story (about a woman trying to start over after being raped in a nightclub).  You can find the results of our analysis here.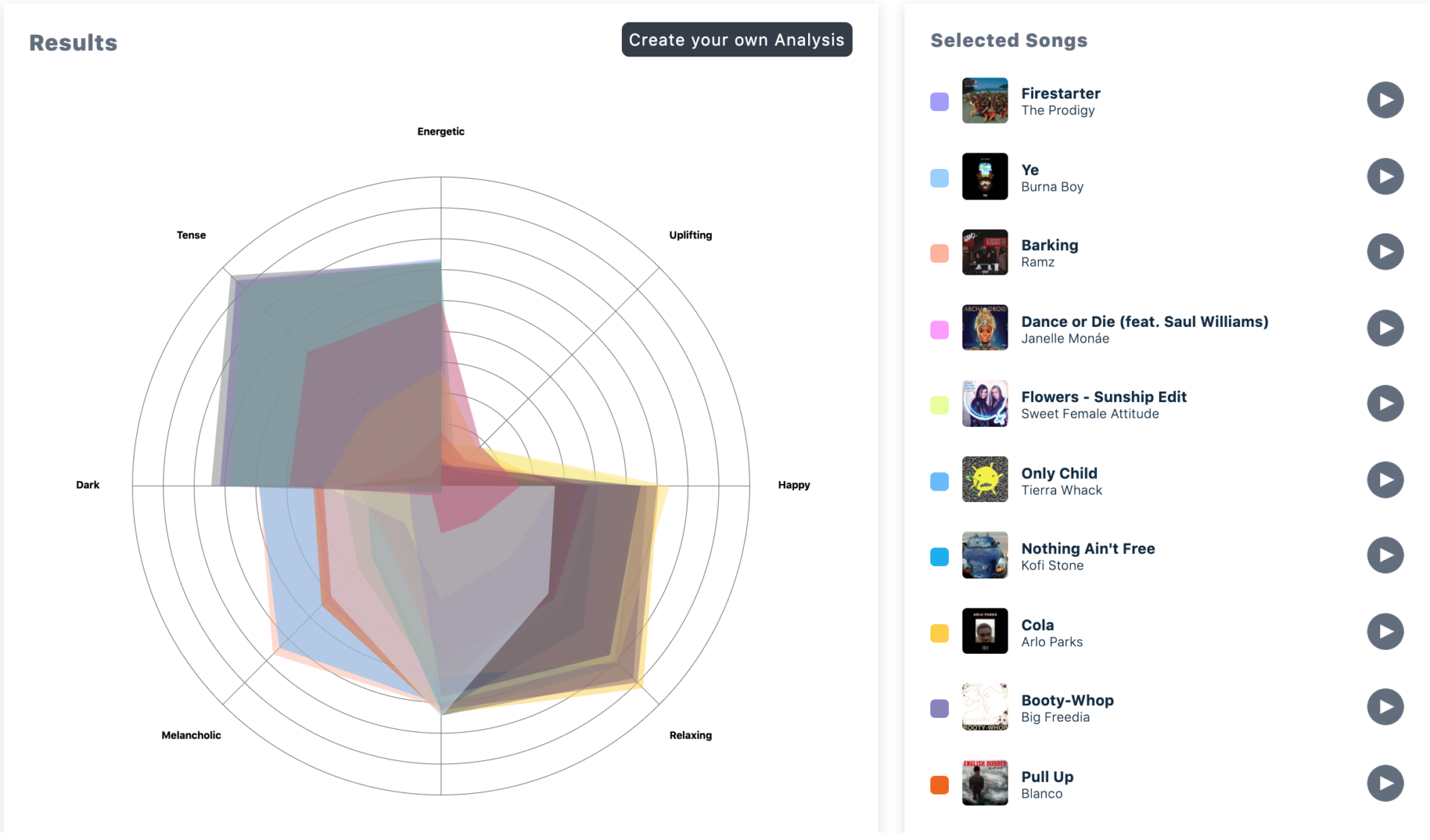 Now you know how much each mood is present in each song. Time to pick what's right for your video.
Decision – Dynamic Emotion Analysis
Making the final call on which song to use deserves arguably the most care. The song you choose – whether licensed commercial music or production music from a library – is associated with your video forever. That's where data comes in. . The more detailed and relevant, the more information you have to make a better decision. 
Dynamic Emotion Analysis gives you that depth of data. This tool provides a second-by-second analysis of the emotion in a song. You'll see the exact value for each mood state at any point. The results are displayed together with the song's full audio (presented as a waveform). Move the mouse along the waveform while listening to discover the mood at that specific moment. 
You can follow the fluctuation of each mood state throughout the whole song. This makes it quick and easy to find the parts that are happy, tense, or melancholic as you need them to be. Just jump to the point with the highest value for an emotion to see if that part is perfect for your video.
Now you've got the right data at the right moment. It's up to you to choose the right song. With the right song in place, your editing has a better shot at being a hit.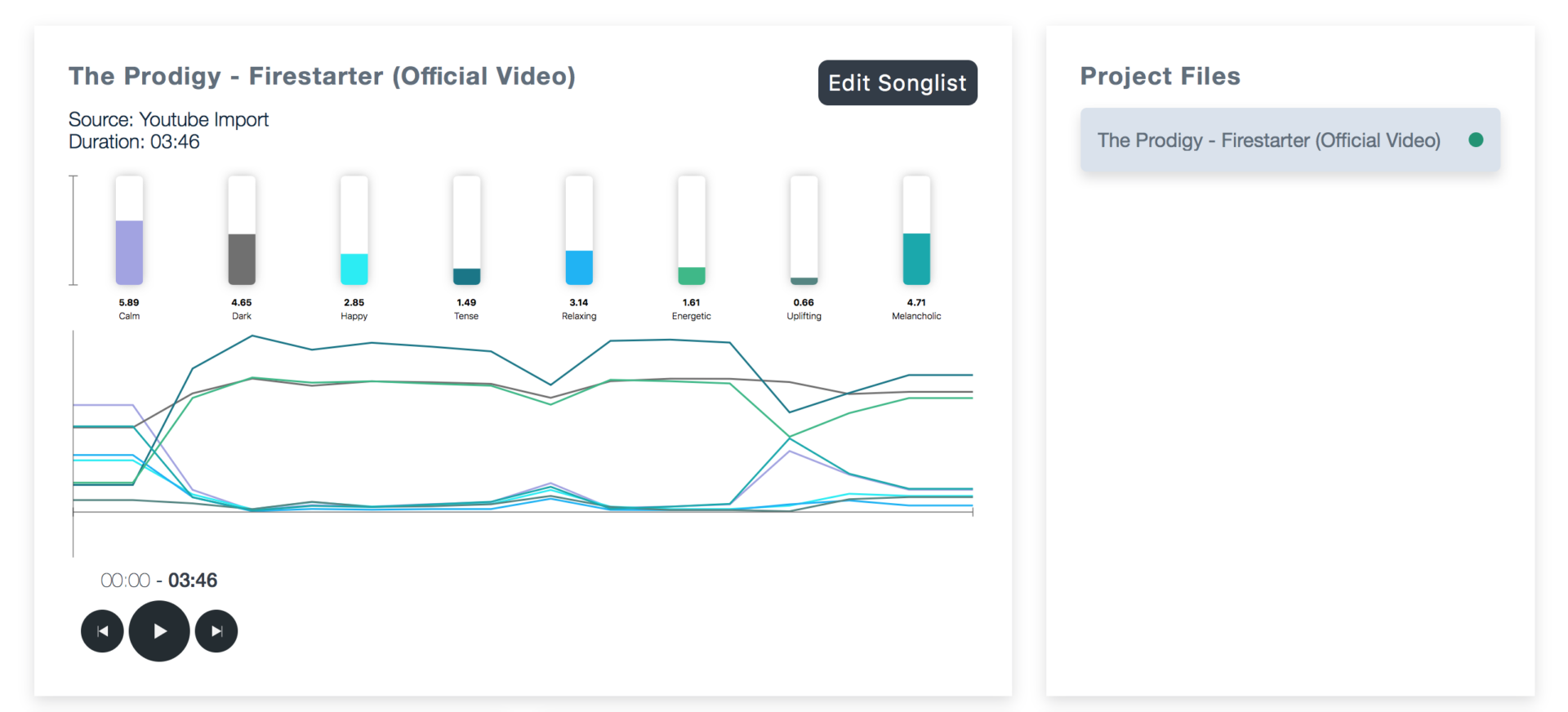 This was our simple, structured approach to picking the best music for your video content. Of course, AI can't do all the work for you – music selection is still too complex to leave out the humans that made it – for now. But the algorithm can certainly assist you in the song-finding process. Or even point you in a few, new data-based directions you might've never considered. You'll just have to explore it for yourself.
To put these steps into action, check out our platform here. Or reach out to our team via mail@cyanite.ai for support or help with your specific needs.