One year ago, we
analyzed the sound of 9 iconic German clubs
and tried to uncover representative elements behind the musical curation of each club using Cyanite's
music analysis algorithms
.
Today we ask ourselves if our AI can shed light on how electronic music has evolved over the last 20 years. Which club would be better suited for this than London's Fabric? Its legendary club compilations hand-picked by popular and emerging DJs boast almost 20 years of history.
We look into all the main characteristics of Fabric compilations such as genre, mood, and energy level to show how the sound of the club progressed over the years.
Fabric compilations feature two series – fabric and Fabriclive. Friday nights at the club are known as Fabriclive. These albums feature such artists as James Lavelle, Tayo Popoola, and Daniel Avery. The live element of Fabriclive nights doesn't mean they were recorded live. Saturday nights bear the name of fabric. Fabric albums feature such artists as Craig Richards, Omar-S, Shackleton, and many more.
Although the two series are clearly different from each other, we will try to find out if our AI can find common elements that could be characteristic and representative of Fabric's sound and its development over time.
Our approach was to narrow the analysis down to the most favorite Fabric compilations. For this, we used the best-of lists from media outlets such as DJ Mag, Mixmag, and the Fabric team itself. In total, we selected 25 compilations and limited the analysis to them. You can find the full list at the end of the article.  
Our findings include: 
fabric series progressed from house to techno
Fabriclive exhibits a strong tendency toward breakbeat/drum and bass
Fabriclive series has more albums with uplifting vibes than fabric
fabric's sound is robotic and bouncy and Fabriclive is pulsing and driving
Common elements of fabric and Fabriclive compilations are high energy and a cool character.
And many more interesting insights, so keep reading to find them out.
fabric compilations are dedicated to electronic dance as the main genre. Fabriclive is more diverse in its genre featuring electronic dance and other sub-genres such as funk-soul, rap/hip hop, and rock.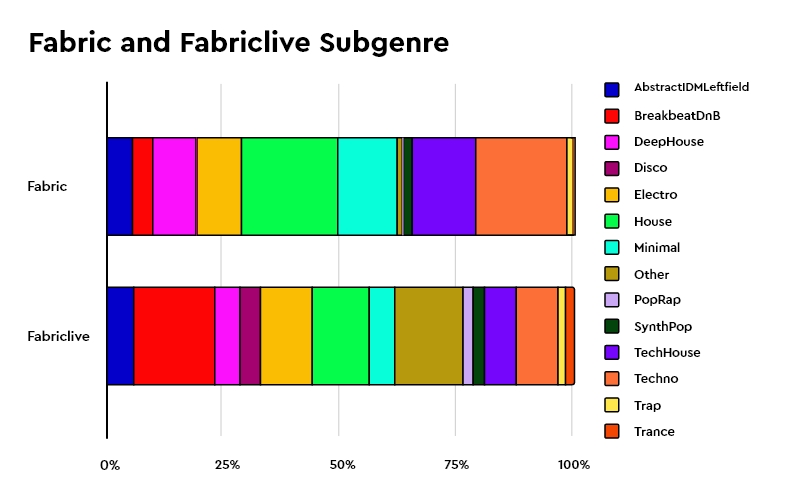 The sub-genre feature in Cyanite provides 48 sub-genres from
abstract IDM / leftfield
to
trap
. The Drill and Grime popular within the UK scene are likely to be classified as
trap
.
Each sug-genre has a score from 0-1 where 0 indicates that the track is unlikely – 0% – to represent the sub-genre, and 1 indicates that the track by 100% represents the given sub-genre. 
Insights from the sub-genre analysis: from house to techno for fabric, and drum and bass for Fabriclive
On the graphics below, you'll see the development of main sub-genres over time for fabric and Fabriclive. 
The first fabric compilations (fabric 01, fabric 10, fabric 11, and fabric 31) are heavily focused on house music. In fabric 36, Ricardo Villalobos delivers an album that is consistently minimal and house. Finally, in the latest years, fabric compilations gear toward techno with fabric 96 being the most (50%) techno album of all.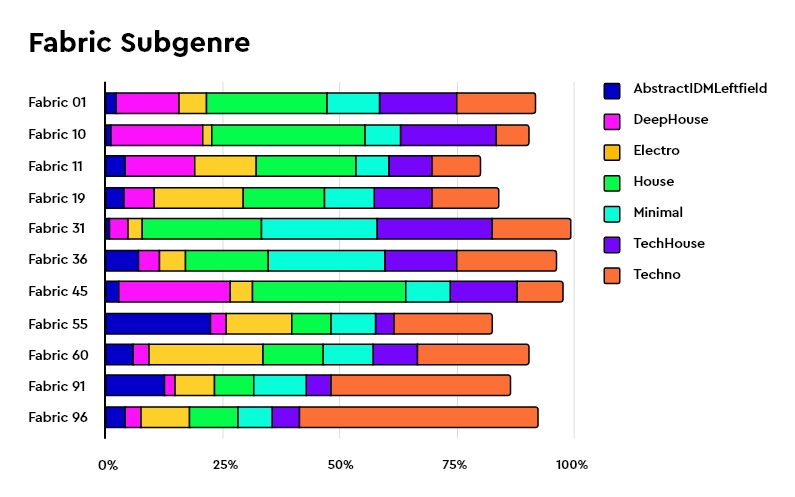 In the Fabriclive series, albums change sub-genres from one album to another, sometimes rather abruptly. Some albums have one dominant sub-genre, others are a mix of various sub-genres in relatively similar proportions. It starts with
house
as a sub-genre for Fabriclive 01 and Fabriclive 09. And then we practically don't see another
house
album till Fabriclive 59 and Fabriclive 66.
Meanwhile, breakbeat / drum and bass takes over, Fabriclive 32 is 32% breakbeat / drum and bass and Fabriclive 44 and Fabriclive 46 are fully breakbeat / drum and bass with 80% and 73% respectively. Finally, Fabriclive 75 restores a bit of a balance with a combination of drum and bass, electro, and house. 
Finally, the odd ones out are Fabriclive 07 by John Peel which is indie / alternative at the core, Fabriclive 24 by Diplo which is mainly electro, and Fabriclive 36 by LCD Soundsystem which is 39% disco. There is definitely more variety and experimentation within the Fabriclive series.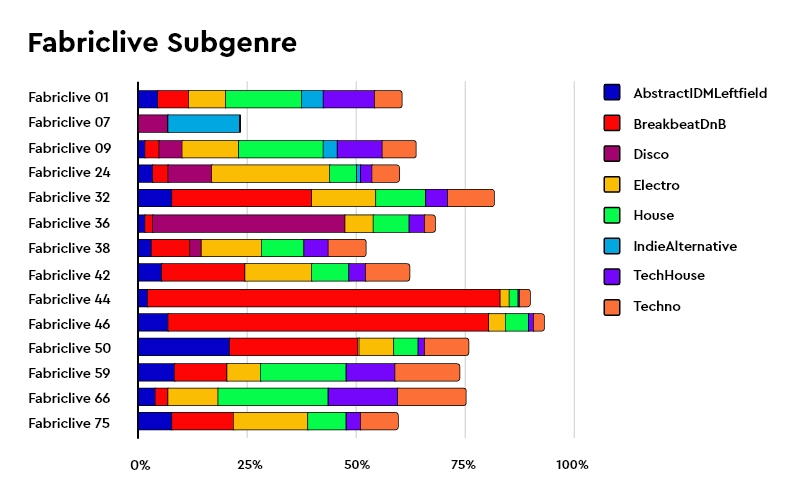 Let's see how the moods played out in the fabric and Fabriclive series. The moods work the same way as genre and sub-genre in Cyanite and represent the emotion of the track on a scale from 0 to 1 (0-100%). 
Insights from the mood analysis: fabric – dark, energetic, and ethereal, Fabriclive – energetic and uplifting
Both fabric and Fabriclive are quite energetic. fabric series tend to be more dark and ethereal, while Fabriclive is uplifting.
The more detailed analysis reveals the difference between individual compilations:
The darkest compilation – fabric 36 featuring Ricardo Villalobos.
The most energetic and aggressive one – fabric 60 by Dave Clarke.
The most ethereal album – fabric 55 by Shackleton.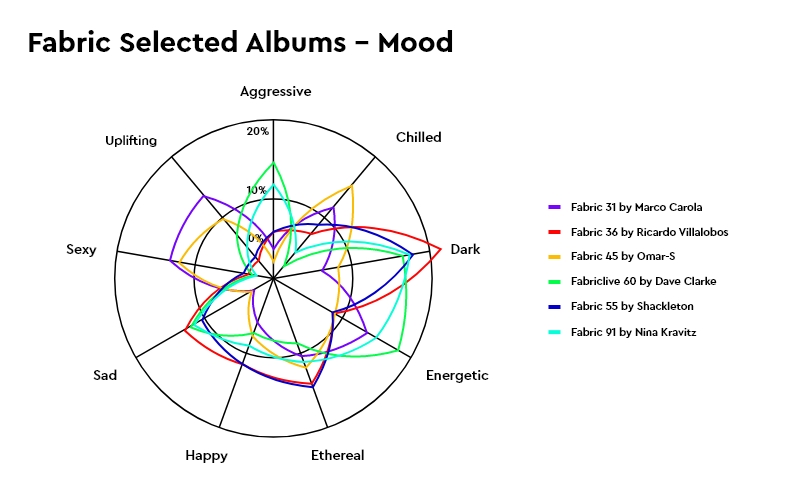 The most
energetic
Fabriclive compilations are Fabriclive 09 by
Stuart Price
, Fabriclive 24 by Diplo.
Most uplifting albums – Fabriclive 36 by LCD Soundsystem and Fabriclive 09 by Stuart Price.
The happiest album is Fabriclive 09 by Stuart Price.
Fabriclive 09 by Stuart Price is an album with a lot of extremes being one of the most energetic, uplifting, and happiest albums.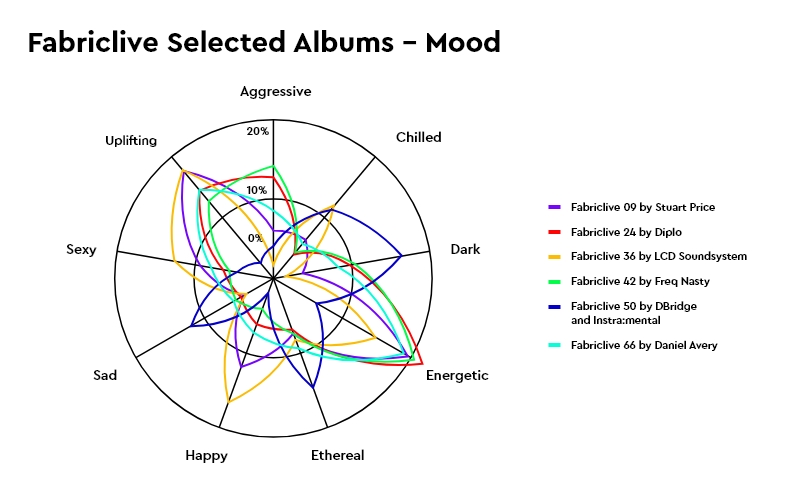 Looking at the results, if you want to get or expend some energy during the weekend both fabric and Fabriclive nights are a great choice. If you want a bit of happier and uplifting vibes, Friday Fabriclive nights are probably your best bet. On the contrary, Saturday fabric nights tend to be on the dark side. 
But the results vary across the compilations with some odd figures in between. So you might become a witness to the Fabriclive night where dark, ethereal, and sad moods are prevalent similar to Fabriclive 50 by DBridge and Instra:mental.  
The character describes qualities distinctive to a track and is one of the newer features in Cyanite. It contains such classifiers as
warm
,
playful
,
heroic
,
luxurious
, and more, which depicts the expressive form of music and describes its appearance rather than mood. 
Insights from the character analysis: fabric – luxurious, cool, and mysterious, Fabriclive – cool, unpolished, and powerful. 
fabric compilations have a cool and luxurious character but only at the start in fabric 01, fabric 10, and fabric 19 albums. In later compilations, the sound continues to be cool with a touch of mysterious and bold, which makes sense with Techno being more present in these albums. Finally, fabric 55 breaks through with an ethereal character but it still maintains a bit of mystery. fabric 60 and fabric 91 introduce unpolished character while the last one, fabric 96, is mysterious and ethereal.
Fabriclive compilations also have a strong
cool
character across almost all albums. The cool character of some albums is often complimented with
unpolished
vibes. Such are Fabriclive 32, Fabriclive 42, and Fabriclive 44.
In Fabriclive 24, Fabriclive 38, and Fabriclive 42, bold accompanies the cool character. Overall, our data shows bold, cool, unpolished, and powerful as overarching themes for Fabriclive with no clear skew in one direction. 
Movement is another new feature in Cyanite. It describes the overall manner of how the sound changes or "moves" across the track. Movement in music can be described as
bouncy, driving, flowing, groovy, nonrhythmic, pulsing, robotic, running, steady,
or
stomping.
Insights from the movement analysis: Fabric – robotic and bouncy, Fabriclive – pulsing and driving
This is an average across the compilations and individual albums' values may vary.
Out of all fabric albums, Dave Clark's fabric 60 has the most tracks with a
high
level of energy. fabric 36 stands out with a lot of
medium
energy tracks, while
low
energy is not really characteristic of any of the fabric compilations. Out of 11 fabric albums, 7 have high energy.
Insights from the energy analysis: both fabric and Fabriclive compilations are high energy overall
dBridge and Instra:mental's Fabriclive 50 is probably the lowest energy album of all Fabriclive compilations. Out of 14 Fabriclive albums, 10 have the majority of tracks with high energy, so the Fabriclive series is also high energy overall.
What does all this data mean? It shows the development of Fabric sound across the years and paints a picture of a club that pretty much remained true to its goals and mission from the start. While there are some variations across fabric and Fabriclive compilations, both are dedicated to the electronic dance genre, with
house
and
techno
as sub-genres for fabric, and
breakbeat / drum and bass, techno,
house,
plus
some
rap/hip hop, rock,
and
soul
for Fabriclive. 
The differences in mood and movement between fabric and Fabriclive are where the club brings some experimentation within the series as well as between the series. With fabric delivering the darkest vibes, it is hard not to appreciate the uplifting nature of Fabriclive sound. With movement also, the differences between the series are apparent. While fabric's movement values are robotic and bouncy, Fabriclive is characterized by pulsing and driving vibes. 
As for the character and energy levels, they are pretty consistent. The club maintained its cool character on Friday and Saturday nights throughout the years, additionally introducing more mysterious sound for fabric and unpolished sound for Fabriclive in the latest years. 
It appears that it might be possible to detect how the club sound changed over time as well as explore the differences between the club nights. For a legendary club such as Fabric, it is an opportunity to decide whether to stay on a well-known path or steer in a different direction in the future.
I want to analyze my music data with Cyanite's AI – how can I get started?
If you want to get a first grip on how Cyanite works, you can also register for our free web app to analyze music and try out similarity searches without any coding needed
Contact us with any questions about our frontend and API services via mail@cyanite.ai. You can also directly book a web session with Cyanite co-founder Markus here.