In the world of electronic music, shifting between different aliases allows artists to explore different sounds and demonstrate their versatility without transforming existing music identities too much. But is it really true that different aliases mean different sound for all the DJs? In this article, we are going to analyze the music of one of the famous German DJs across all of their aliases to confirm or challenge that view.
Late last year, Dutch musician Afrojack, known for EDM, revived his house and techno alias Kapuchon, releasing a housey single '10 Years Later'. With the TESTPILOT alias, deadmau5 flaunts his techno chops. 
But, not all aliases signal a vastly different sound change. Some reveal more subtle transformations, which makes it a little more challenging for listeners, fans, and reviewers to articulate, but never any less pleasing to the ears.
In these cases, how can machine learning help to identify even the more granular differences in your music catalog? 
We put our Cyanite music intelligence tools to the test through tracking and analyzing the different aliases of quite possibly one of the most reclusive German producers in the underground electronic world, Traumprinz. 
The Banksy of the underground music community, his presence is marked by sporadic Soundcloud releases across various identities, no announcements of live gigs, and definitely no hints at his real name. Having produced under 7 different aliases throughout his career, the elusive producer's musical output spans techno, ambient, and house, and everything in-between, and yet somehow remains recognizably 'Traumprinz-sounding'.
We analyzed EPs and albums from all 7 aliases, amounting to over 150 songs. Today, we share with you some interesting insights gleaned using our mood and genre algorithms.
Analyzing tracks from all his aliases, we obtained unique statistics on each track's genre breakdown, emotion breakdown, BPM, and more. From there, we arrived at alias-level breakdowns, and a whole-of-Traumprinz, combined aliases musical breakdown of his 'average' sound across all aliases. 
The emotions of Traumprinz's many aliases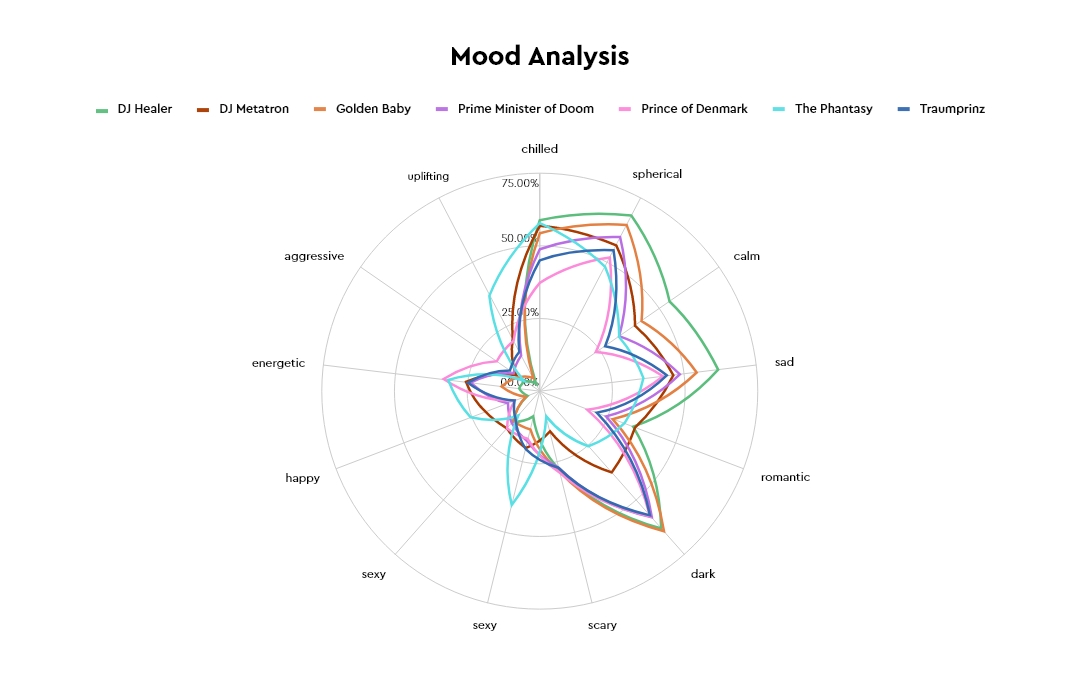 Sentiment analysis in the world of Music AI goes beyond positive and negative. Our Cyanite models detect 13 different facets of emotions in the tracks it analyzes. 
Overall, our analysis shows that Traumprinz sound veers towards the contemplative, melancholy territory, being detected by our music models as largely spherical, sad, and dark. Musical output from the DJ Healer era is detected as being the saddest, most calm, most spherical, and most chilled out of all 7. Occasional experimentation with the lighter side of things is seen in his releases under the DJ Metatron and The Phantasy aliases. 
If you are an artist, check out this article on how to build trust with the gatekeepers in the music industry.
The 'benchmark' Traumprinz sound
The Cyanite intelligence tools revealed that the Traumprinz sound can be largely summed up (if that was ever possible!) as being largely electronic dance (techno and house-oriented), with a significant touch of ambient and in some parts classical.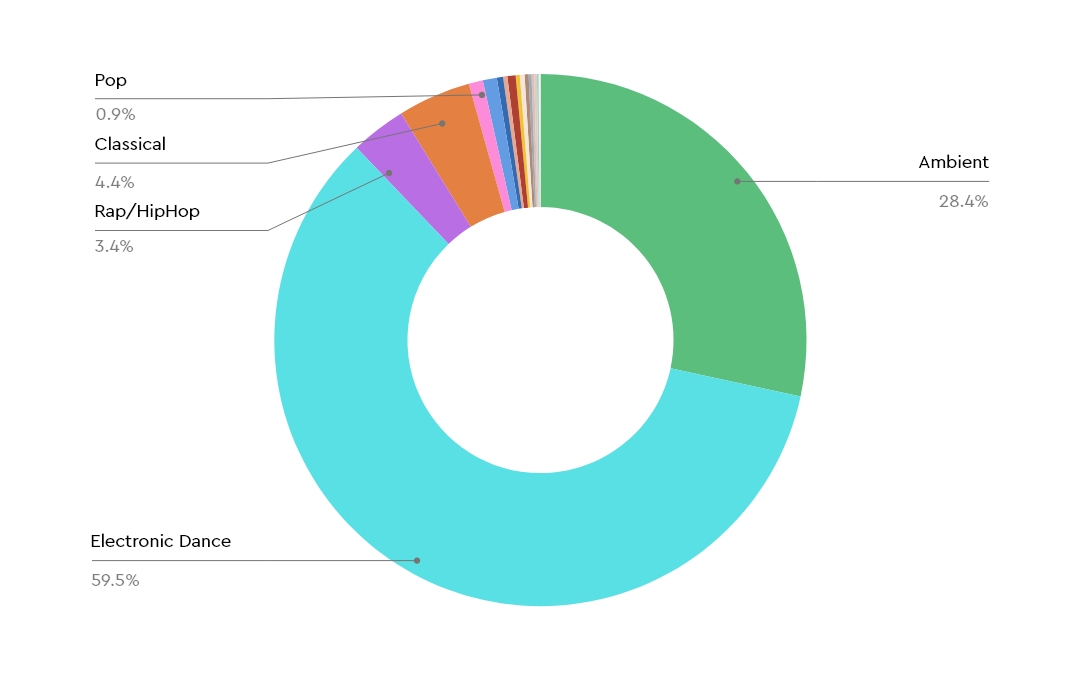 And now, on to a deep-dive: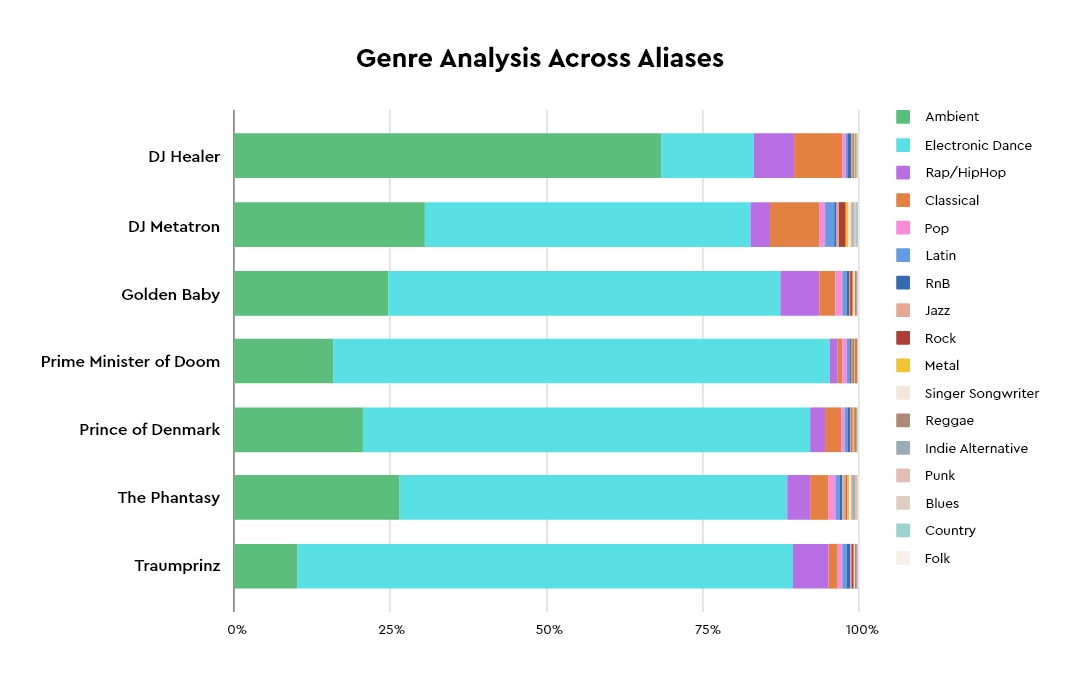 The most electronic dance era: Traumprinz
With more house-tinged tracks in releases such as Into the Sun, Mothercave, and Intrinity, and a more upbeat BPM of 121, the Traumprinz era was detected as being 82.6% electronic dance in the genre makeup, soaring above the average of 59.5%. 
The most ambient-sounding era: DJ Healer 
We found that Traumprinz's songs were most ambient-sounding under the DJ Healer alias, with the solemn, sophisticated Nothing 2 Loose release, moderately paced at an average BPM of 102. At 71.9% ambient, this amount was far above the average Traumprinz ambient level of 28.4%. 
The most classical-sounding era: DJ Healer
At 8.0% classical in makeup, songs from the DJ Healer days were found as being the most classical, although DJ Metatron alias, with releases like Loops of Infinity, was found to be a very close runner-up, at 7.8% classical.
Looking at the other aliases, ambient makes up slightly more than one quarter of DJ Metatron's overall sound, and electronic dance in vibe dominates. Compared to DJ Metatron, Golden Baby has more of that electronic dance feel, and less of the ambient. Musical output from The Phantasy era very similar mirrors Golden Baby in genre profile, with just a little bit more ambient.
Even dancier than the Golden Baby is the Prince of Denmark sound. Finally, the closest runner up to Traumprinz for the most electronic dance-sounding era would be the Prime Minister of Doom alias. 
Energy levels and emotional profiles
Apart from the data on genre and moods, our analysis uncovered the energy level and emotional profile of each song. Our general summary of the analysis can be described as follows: 
The emotional profile tends to be negative with very few songs being neutral, and even less tracks being tagged as positive
The energy level, for the most part, alternates between low and medium. But when it comes to Prince of Denmark and the Phantasy, there are definitely more high-energy songs compared to other aliases. Are these two aliases a way for the producer to show a more energetic side? 
Here is a detailed Excel sheet with each song's data. Click on the links in the file to see the full albums. 
Our final thoughts: AI as a tool for discovering new ways for music curation
Through this music analysis experiment, we can once again see how music tagging and categorization software can be used as a counterpart to human judgment and instinct when it comes to appreciation of music. Moreover, this data can be used to select the tracks for DJ sets to interchange smoothly. For music companies, it represents the inner workings of AI, which can be used to sort music in the catalog and make similar song recommendations. 
To end off, here's a mix of Traumprinz for your listening pleasure.